Insulated Polystyrene Boxes
Polystyrene Boxes are manufactured at our moulding factory from food grade virgin (EPS) raw material which adhere to the following standards, compliances and benefits.
ANZS 1366 Part 3 1992. EPS Manufacture
AS 2070-Part 3.
Air NZ TS-421.
USFDA 21 CFR Parts 174,175,176,177,178,184.
NZ Fishing Ind. Std. IAIS 003.1 Sec. 15.
Qantas Approval. M0021NZ.
Thermal Conductivity = .036w/mK. average
Regular 48 hour leakage test.
Clean white finish
Sized to suit airline containers
Excellent thermal efficiency
Batch identification and labelling
Ventilation grooves between boxes when stacked
Curved corners for strength
Cost effective
Therma-Grow Boxes for Plant growing
Small -External Dimensions 600 x 400 x 150mm and 560 x 360 x 120mm for Internal Dimensions.
Large -External Dimensions 600 x 400 x 190mm and 560 x 360 x 160 for Internal Dimensions.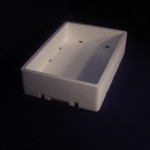 Download our brochure for full details on all dimensions, carrying capacity and product codes for the food box range.