Ambionse – Building with Polyblocks
STRONG – SOLID – LONG LASTING
Ambionse Insulated Concrete Forms (ICF) provides strong and solid long lasting exterior walls for Residential Homes. Ambionse is energy efficient (R 3.0), acoustically quiet and can provide a fire rating of up to 4 hrs.
An Ambionse polyblock wall is constructed from two exterior ( EPS ) polystyrene panels spaced apart by plastic bridges. The inner cavity has reinforcing steel both horizontal and vertical placed ready for concreted to be poured to fill the wall.
A good builder can construct walls with Ambionse Polyblock  and an Engineer will be required to specify the amount and type of reinforcing steel required for your  project.
Ambionse – Polyblock Sizing
190 series blocks 1200mm long x 300mm high x 190mm wide
250 series blocks 1200mm long x 300mm high x 250mm wide
300 series blocks 1200mm long x 300mm high x 300mm wide
Corner Blocks are available for 190 and 250 series blocks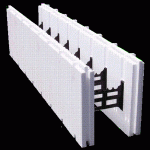 Benefits of using Ambionse Polyblocks
No wood no rot
Stable reinforced concrete core
Continuous Insulation R3.0
Acoustic wall for a quiet interior (STC53 250 series)
Energy Efficient
Long Lasting 50 years plus
Air tight walls
Examples of where Ambionse Polyblocks can be used are:
Residential Housing Walls
Commercial Construction Walls
Apartment Walls
Foundation Walls & Footings
Retaining Walls
Basement Walls
Intertenancy Walls
Swimming Pool Walls
Fencing and Landscape Walls
Garden Edging Walls
Have your favourite Architect or Architectural designer, design your new home in Ambionse and if you require a builder, then contact us for a recommendation.
Download Ambionse brochure (pdf)